---
about me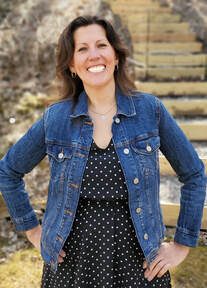 Hello - I'm Andrea and in 2005 I took a job in a sign shop and have been in the industry ever since!
I started out running a small sign router and laser engraver (and manually applying Braille beads with a tiny vacuum contraption!). Throughout the years I worked my way into sales, design and project management. In 2020 I took the leap and started my own business.

Working in the various positions taught me how each step of the process affects the other. Now when I design I look at more than just the drawing itself - I think about efficiencies in production and installation as well as where there could be cost savings or if another material is better for the final application.
---
about the business (faq's)
​What kind of projects do you work on?
Interior sign packages that include ADA (Braille) room ID, wayfinding & evacuation maps
Exterior signage such as monuments and pylons
Production setup
Reviewing of architectural plans & Division 10 specifications to put together take-offs, sign schedules and install / location maps
Rebrand programs for national companies
Examples of my work can be seen in my portfolio
What are your rates?
The hourly rate is dependent on the type and duration of project. Please
contact me
with the details and I can give you pricing on your specific project.

Do you supply signage?
Nope - I just design it.
What programs do you use?
I primarily use Adobe Illustrator, Photoshop & CorelDraw. I have online subscriptions so I always have the most recent versions.
If you supply your title block template and example drawings I will match your submittal design standards.
Where are you located?
I am located in Wisconsin, but I have worked with companies from California to New York and many places in between.
What are your payment terms?
Payment terms are dependent on the size of the project. If the project is larger and you are a new client, a down payment may be required. I accept check, direct deposit or credit card payments.

Mauk Swanson, LLC © 2020-2023 All Rights Reserved